ABSTRACT ELECTRONICS, INC.
Founded in 1996 Abstract Electronics distributes and sources electronic components and hardware for a wide variety of commercial and military OEMs and CEMs. In addition to furnishing product from our growing list of franchised and manufacture direct lines, we can provide sourcing services when you find yourself faced with requirements for long lead time and/or obsolete hard-to-find items.
Quality Control is the prime focus at Abstract Electronics. Our AS9120 certified Quality Management System provides the framework for consistent and reliable transactions. Our inspection process is based on IDEA STD1010 and includes a rigorous counterfeit detection process. Inspection personnel are continually trained in the latest detection methods and our memberships with ERAI and GIDEP keep us informed of the latest sub-standard and re-called parts. Most often, we can supply products with full manufacturer's traceability, airworthiness, or test certifications.

Building relationships through industry
leading quality and customer service.
Value Added Services:
◎    Military Packaging
◎    Programming
◎    Bake and Dry Pack
◎    Bar Coding
◎    Vendor Managed Inventory
◎    Asset Recovery Services
◎    Electrical Function Testing (Outsourced)
In-House Inspection Services:
◎    X-Ray
◎    XRF
◎    Solderability Testing
◎    Hot Solvent Testing
◎    Die Verification
◎    Microscope Inspection
Quality Policy
The purpose of Abstract Electronics is to build a customer base of satisfied customers by delivering consistent timely shipments of authentic, high-quality products that meet their requirements and which are processed by a unified team of knowledgeable and inspired people.
The processes and resources used to supply these products shall be organized, monitored, measured, and continually improved upon in a manner that reduces risks, costs, and inefficiencies.
Our incoming and outgoing inspection processes are tailored to customer requirements using flow downs and unique process set-ups. Component inspections use baseline criteria as established in the latest revisions of IDEA STD 1010, AS6081, CCAP101, and AS5553 Standards. Counterfeit detection is utilized in all inspections. Abstract Electronics is a founding member of ERAI and a member of GIDEP. Our inspectors are well trained with years of hands-on experience.
Quality Management System
Our management team is committed to customer satisfaction and continuous improvement. Our Quality Management System is certified to the latest revisions of ISO9001, AS9120, and AC-0056B. Products are stored and processed in our temperature and humidity controlled ANSI/ESD S20.20:2014 certified warehouse. You can be assured your order is being processed in a manner approved by the international business community.
We are a hybrid distributor of products where traceability requirements are dependent on customer needs. Products coming from one of our many franchise lines have full manufacturer trace and warranty. Other items will have trace levels that are agreed upon with our customers at time of quotation.
We understand in order to create satisfied and loyal customers we must consistently perform at a high level. We have to keep improving our software systems, our knowledge level, our workforce, our equipment, our supply chain, our policies, and procedures. We have to stay in-tune with our customer's needs and be prepared to change and adapt to meet those needs. We want our customers to receive a high-quality experience from us, not just high-quality products.
◎    Batteries
◎    Cable Assemblies
◎    Capacitors
◎    Connectors
◎    Crystal Oscillators
◎    Diodes
◎    Displays
◎    ESD & Production Consumables
◎    Fans
◎    Filters
◎    FPGAs
◎    Fuses & Circuit Breakers
◎    Heatshrink
◎    Inductors & Coils
◎    LEDs
◎    Memory
◎    Microcontrollers
◎    Microprocessors
◎    Power Supplies
◎    Resistors
◎    Sensors
◎    Switches & Relays
◎    Thermistors
◎    Transformers
◎    Transistors
◎    Voltage Regulators
Our In-House
Inspection Process

Our experienced and knowledgeable inspection staff performs detailed inspections on all incoming and outgoing product. Inspection criteria for a wide range of product types are pre-established and based upon the IDEA STD 1010, AS6081, CCAP101, and AS5553 standards.
AS6081 inspections include x-ray inspections to ensure lots have consistent internal construction.
The use of x-ray fluorescence allows inspectors to verify the elemental composition of inspected items. 
The custom Abstract Electronics ERP Receiving Inspection module provides inspectors with up to date information regarding product specifications, descriptions and includes internet links for products with ERAI counterfeit notifications, keeping our inspectors better informed increases the effectiveness of our inspections.
Solderability Testing:
Solderability testing is performed in-house on AS6081 based inspections and when required by customer.
Surface Testing:
Four inspection methods are used in the examination of integrated circuit surfaces. During visual inspections, inspectors subject products to acetone solvent, mechanical scraping, and microscope examination using up to 200x magnification.  Additionally, AS6081 inspections include hot solvent testing using Dynasolve 750 solution.
Programmable parts are tested on one of our two program testers. This helps ensure customers receive product which is free of programs and ready to use. The erasable product is run through an AQL sample of full fill random program, verify, erase, and blank check cycle to verify product function.
AS6081 based inspections include die verification. Die inspection is performed to ensure proper markings and identifications, wire bond quality, and the absence of factory reject dots. Abstract maintains a large historical database of die images which are used for reference.
Standard Inspections:
Our two standard levels of inspections provide customers a choice of inspection to fit their needs. Customers can also design their own Custom Inspection Plan to meet specific order requirements.
Inspection based on IDEA STD 1010

Documentation
Packaging
Part Package Type
Lead/Ball Condition
Part Marking
Surface Testing
Rohs Status
ERAI Review 
AS6081 Based Inspection w/ Report

X-Ray
XRF
Solderability
Heated Solvent Testing
Die Verification
Scanning Electron Microscopy (SEM) When Required
Tailored Inspection

Inspection plans can be customized to meet customer requirements.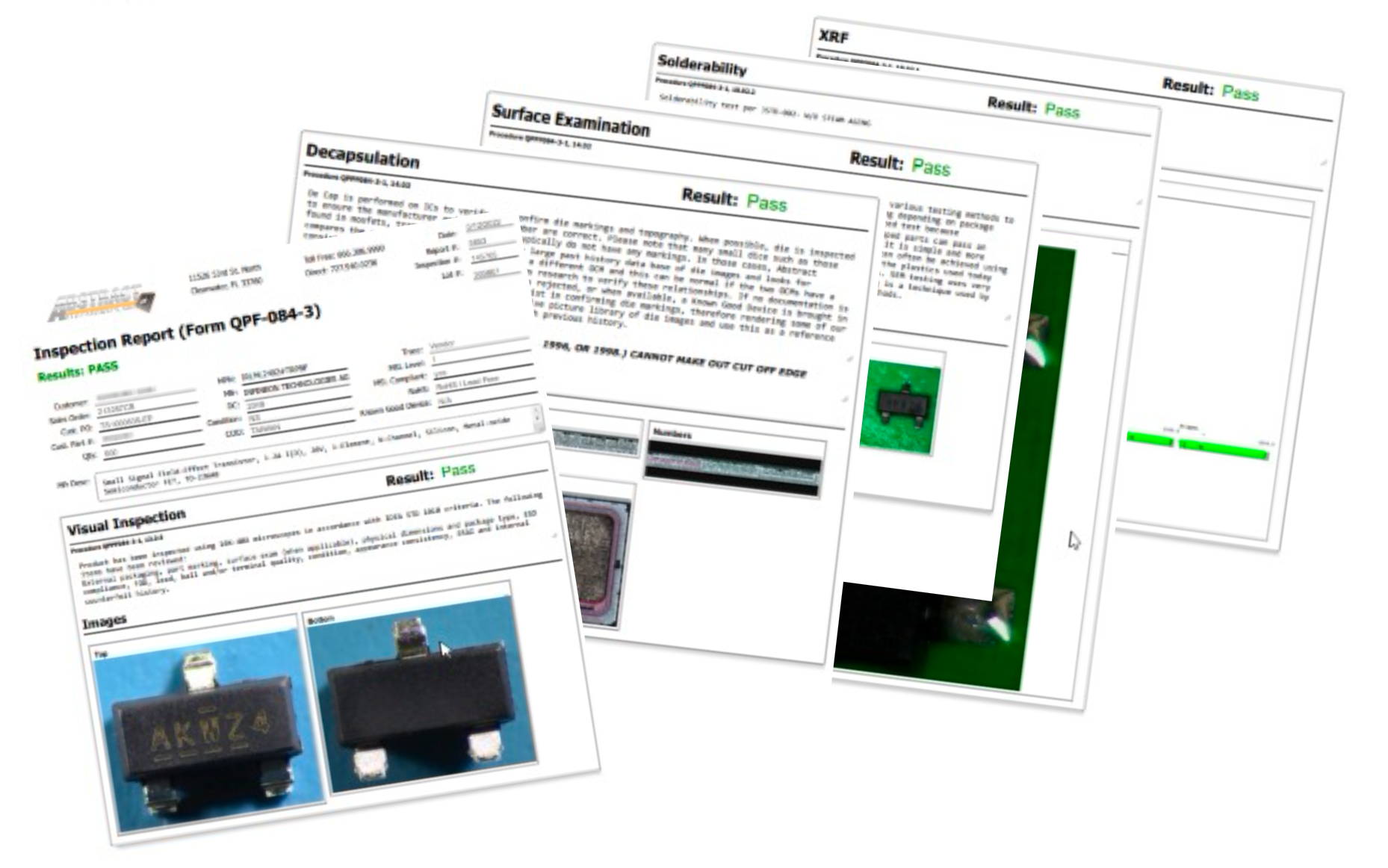 Do you possess strong communication and computer skills with at least 1-year sales experience in the electronic component industry? Are you multi-lingual?
Abstract Electronics is always looking for high-energy, self-motivated people to join our team. You will be given every opportunity for success in an exciting career in technology!
Fax resume to:
+1 727.561.9716
Email resume to:
[email protected]

Some words
from our clients
"KEEP UP THE "GREAT" WORK!!!!!! I started using Abstract at the beginning of 2018. To date, there have been no issues. Price is always competitive, the customer service rep is very knowledgeable, and their quality inspection staff is a good as it gets."
"Excellent service received from our sales rep. He is an asset to your company. Extremely helpful and polite. Went out of his way to research the info I needed to be able to order parts. Thanks again."
"Our sales representative has done an outstanding job by quickly managing our request and orders. Our programs usually have tight schedules and his act of urgency on our requests had positively impact our programs. Thank you"











—

Engineer, Aerospace Manufacturer
"Our rep does an excellent job in locating material, providing options and extra service options so that we can build product. He does a great job for us and is a pleasure to work with."











—

Buyer, Contract Manufacturer